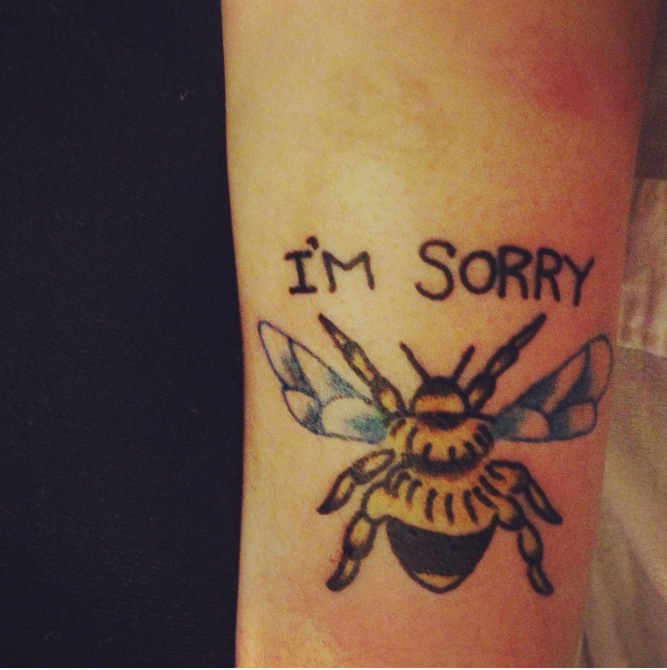 There's something wonderfully interesting about people who have heard the voice of intuition (or the voice of the universe or God…you know, the voice of something larger than we are) and who have then acted upon that calling by becoming beekeepers.
Beekeeping isn't a hobby that we simply pick up. I've come to think of it as a calling…a calling that requires a commitment we might not initially have anticipated but a commitment that we don't shy from, and I love that quality in people. But that's not the point of this post.
Here's my point: I visit many colonies with numerous beekeepers, and long ago I realized that the most often-spoken word in the bee yard is "Sorry."  After all these years and all these bees, I still find myself saying "I'm sorry" all the time. I say it without speaking, and I say it aloud.  Everyone I work with says it. A lot. And we don't wait to express ourselves…we say it right away as we make our many mistakes.
We screw up. We hurt others. We squish bees or unsettle them or drop things or fumble. We're sorry for that. And expressing that apology for being imperfect, clumsy human beings is a high quality to me…it requires humility, and I will follow humble-yet-confident people to the ends of this earth. It is my favorite quality combination. Pompousness can go jump in a lake.
As beekeepers work to become more confident stewards of our colonies, we'll make our mistakes. To hear "I'm sorry" mumbled as the bees teach us to become better beekeepers and better people, though, is a sweet experience.