I have a new truck. It's 40-years old and drop-dead, head-turning gorgeous, and I'm not blowing smoke.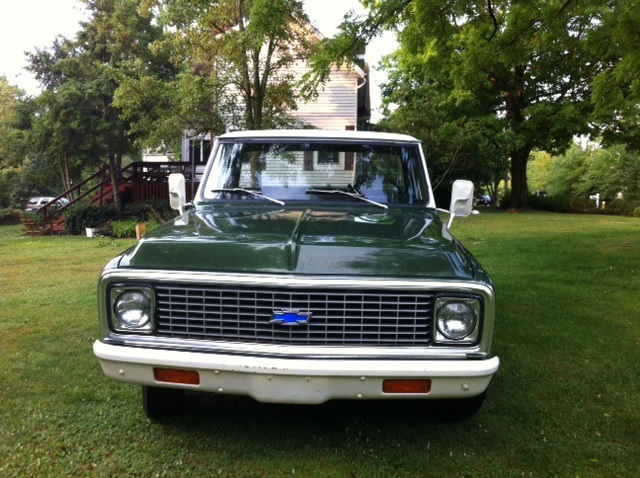 She's a 1972 Chevrolet Camper Special, 8 cylinder 350 engine, 8-ft bed, all original parts, paint, etc. It's spotless. I think it spent its first night outdoors last night…and only because I haven't figured out how to get it in the garage yet. That part's gonna take work and some fancy maneuvering.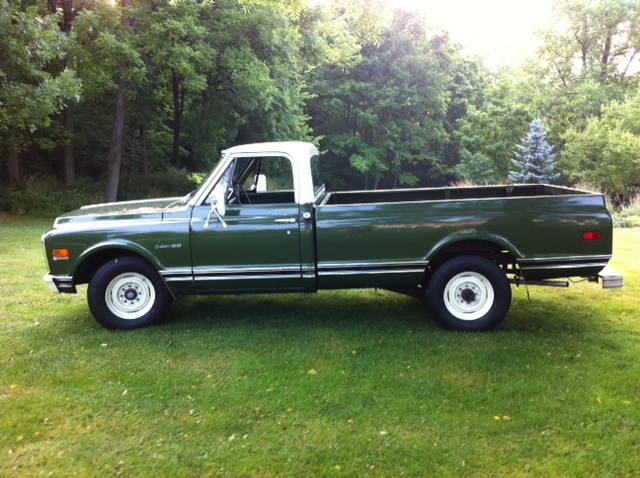 Last evening, I drove my new pickup truck home from Indianapolis, and I had some time to discover why I love it and why I was not satisfied as I tested the newer-model pickups. I listened to my gut, and my gut told me I needed this one.
There is no A/C. So I get to hang my arm out the window and feel the breeze. And I can talk with people who admire it at stop lights.
But there are two awesome vents…just pull a black knob that pulls a long lever, and two big baffles open up to allow steady rush of wind all over my feet and legs.
After a rain, this breeze of which I speak is simply glorious.
No power windows. Just roll them up and roll them down. No problemo.
Oh, but there are some beautifully tall and wide side mirrors. Very sweet.
No automatic door locks. Which means I'll probably lock it less…if at all.
Which means I'll probably stop hauling a bunch of stuff that I think needs protection.
I mean, please. Why on earth do I need to carry stuff that I have to worry about?
I just want to get in my clutter-free pickup and drive it.
The radio doesn't work, so there's no news, no noise, no disturbances. I can think without interference as I drive.
There's no power outlet, so I can't plug anything in. Again, no disturbances, no distractions.
I'll want to stay off of my phone while I'm in the car because I can't recharge it as I go. Brilliant. Brilliant. Brilliant.
And there is no Bluetooth…I consider Bluetooth the work of the devil. It is responsible for the demise of our society.
So if I don't call you right back, Reader, I may be driving in my truck.
There's no cup holder. Which means fewer messes and fewer places to gunk things up.
Of course, because of the no-A/C part, I'll want some bottled water on the seat with me.
There is a long and sturdy bench seat. And it's spotless. Did I say "all original"? Yes. I did. It is. Even the upholstery.
And this bench seat does not sag. It hasn't been driven enough over its 40 years to sink. It seems glad to have me.
Bench seats are friendly and simple. The dog can ride up front with me and Deb.
The steering wheel doesn't have every control known to man installed right on it.
It's a simple, skinny, tough steering wheel, and it's big and wide. My hands look good holding onto it. I admired them the 2 hours from Indianapolis.
Right smack dab in the middle of the steering wheel is a horn. It gives a deep and strong call. It doesn't beep. It doesn't honk. It sings. It sounds like my dog, Murphy, when it sings…it's a baritone. I wish you could hear it.