I discovered Brazee Street Studios and its owner Sandy Gross through my friend and teacher Christopher Daniel, owner of Blue Hell Studios and a wonderful metal artist…he's teaching me to blacksmith and weld and how to fix beehives…I'd say Christopher teaches me how to think of possibilities. And how to simply try my hand at something and see what happens. And then he always finds something positive to notice in my efforts. In my book, this makes for a terrific teacher.
Christopher sees a problem and his brain goes about solving it. My brain sees a problem and it calls Christopher.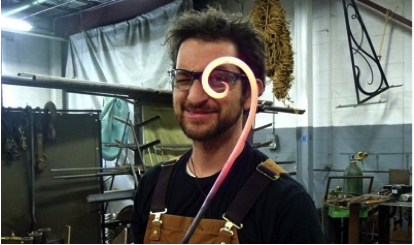 Fortunately, Christopher found me sitting out in the prairie strapping the beehives with those bungee cords, and he very sweetly began problem solving. And then he guided me in fabricating a fancy-dancy, metal-artsy contraption that has now replaced the bungee cords. This sweet solution solves all the problems: It simultaneously holds the lid on and the hive down; it allows the beekeeper to easily remove the lid and inspect the bees; it's low profile and yet it shows an artist's hand at work.
And all we had to do was:
cut a lot of metal into exact little pieces
grind out all the burrs and rough spots
measure and mark and punch
drill and drill and drill and drill
smooth all the rough spots
(I kept saying, "Christopher, these are for BEEHIVES. It doesn't have to be perfect!" He looked at me over his goggles in silence, so I continued on with the angle grinder and the sparks.)
Weld and weld and weld and weld
(I love those awesome green welding jackets. They feel great, and I want one.)
Sand smooth all the rough weld spots…of which there were many because I am not yet a good welder.
Apparently welding involves more than permanently joining two pieces of metal together. It also involves looking as if there has never been a welder on the scene…as if these piece had been born joined together like this. Which involves smooth.
I'm like, "Seriously? You want me to sand all of that smooth?" Again with the silent look over the goggles. Apparently so.
And that's where I left it because it was getting late. Christopher offered to finish the as-yet-to-be-named brilliant solution and install it himself, which I think is a wonderfully sweet gesture. Artists are very particular about how things are installed, you know. :)  I'm eager to see how it turns out when I go visit Blue Hell Studio's open house tonight.
Oh, and then there's the matter of rust prevention. We decided to leave the rust-prevention decision up to Sandy. See? Artists think of every detail, don't they? And, let me tell you, Reader, Christopher and Sandy have a vision of how to either let something rust or how to prevent its rusting, and there's really no way you nor I can predict what they see in their imaginations. And when we see the final result, we'll say, "Oh my gosh…of course. That's it! Why didn't I think of that?"
So, keep visiting the bees at Brazee Street Studios…because it seems as if things out there evolve every single day. (There's an open house there tonight, April 13th from 6-9PM.)
Oh. Someone at Brazee Street is hand-painting a sign that says "Bee Hives." And there's talk of a collaborative bee sculpture.