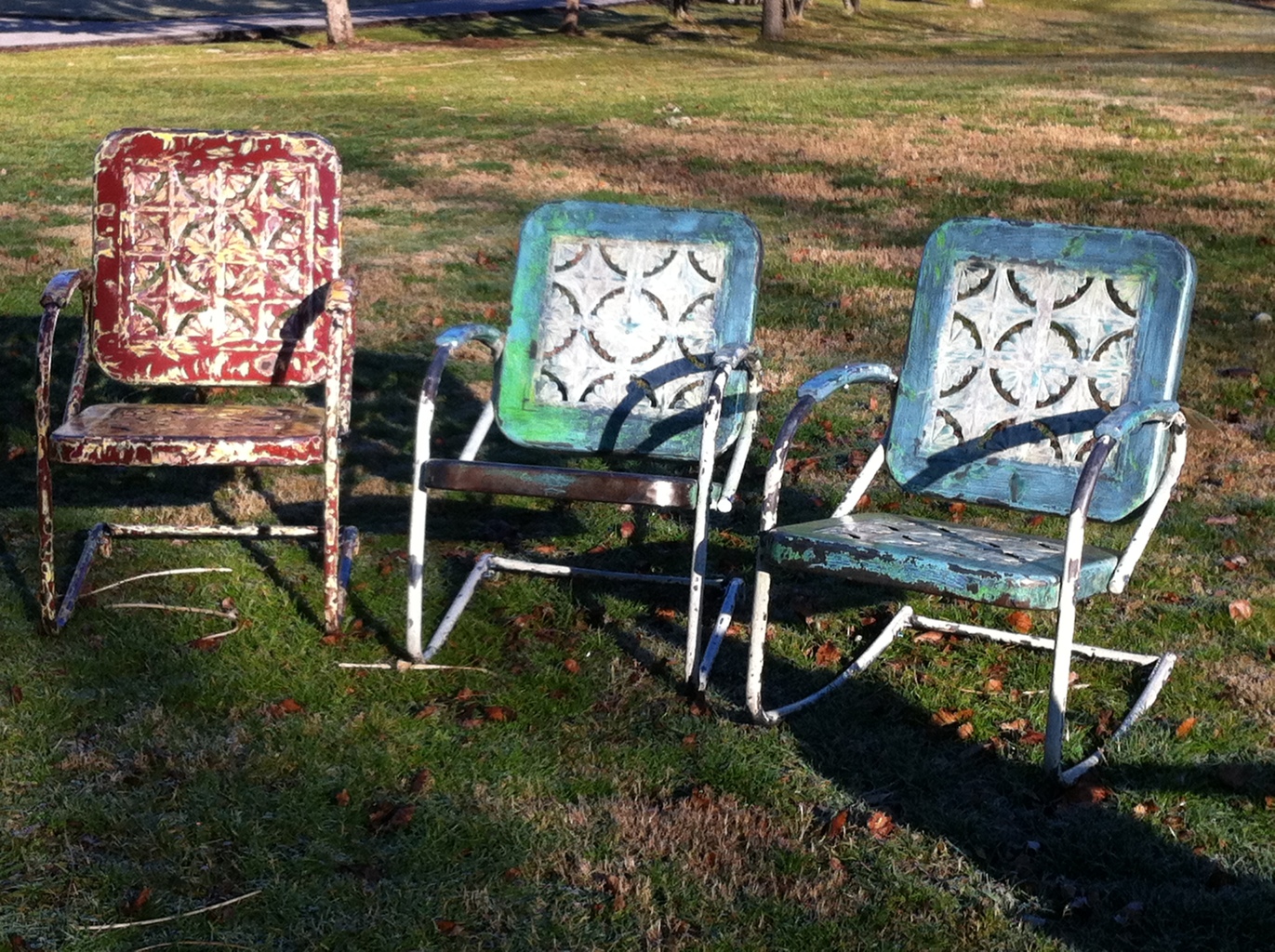 With the bees all warmly and happily tucked away for the winter, I've been up to this, Reader.
Yes, I'm on a metal-chair buying binge (should I hyphenate all three words? "Metal-chair-buying binge?" I don't know). I brought another six beauties home in a rented cargo van yesterday.
Eighteen (18!) metal lawn chairs now hang from hooks in our basement. I can't stop myself. I remain simply delighted by each and every one of them.
Before the weather turned too cold to paint outside, I sanded and prepped and painted my first two chairs…I transformed them. They're now shiny Ford Red. Their hardware is new and smooth. They're gorgeous. I love them because they sit so comfortably, and you can still feel the patina in the seat and on the armrests when you settle into them.
I've prepped two more chairs for painting. And when I say "prepped," I mean:
Remove every single bolt and screw (excuse me, but this is a lot of work! It requires grinding rusted bolts to smithereens. You should see the sparks fly.)
Completely dismantle each piece
Send broken parts to my new welder. Who is awesome. I'll introduce you to him in another post
Sand the flaky paint off
Using an angle grinder with a steel-brush attachment, remove the rust
Wash with soap and water
Set aside for a nice day in which to paint
But I soon realized that I would very quickly bore of spray painting each chair all glossy and clean. I've decided to sand my next chair to remove the rust and expose the layers of paint history…then, to protect the exposed metal from the elements, I'll simply lacquer it. I know you're dying to see the end results, Reader, but no. Not yet. Not until you can hardly stand it.
Everyone keeps asking me what I plan to do with my crazy collection. I don't know yet…but if you want an awesome chair created by me, contact me. I'm now in the business.