I was fully prepared to find the bottom boxes in the Monster Hive emptyish. The Monster Hive is queened by a Zia Queen Bee that I purchased last season, and let me tell you, Reader, it is a phenomenon. I'm buying more of those queens this year.
To my surprise, the hive—which was 9 medium-depth boxes tall when Simon and I dug into it yesterday—was booming. From top to bottom, each and every hive body was brimming with bees and brood and honey.
So, instead of reducing the overall number of stacked boxes in the hive (as I had planned), we added to it! Which now makes the hive 10-boxes tall. Aghhhh.
Ten-boxes tall is probably too tall, Reader, but it's hard to change something that seems to be working so well. So, we left it alone other than to stake it down against the wind with a good rope.
The next time we dig into the hive…probably in a couple of weeks to harvest the honey in it…we should split the Monster into two hives. Which I hate to do. However, I hate for them to swarm, too, and that's probably on the horizon in a hive of this size.
Simon and I both got decked out in our full bee suits for our hive visit yesterday…and let me tell you, there were some rambunctious bees to deal with.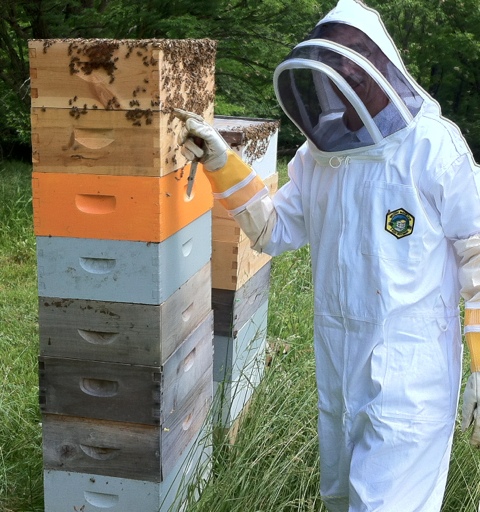 There was also some yummy yummy honey to deal with! Simon took 2.5 frames, and I ended up with 3.5 frames. Simon weighed his…just over 4 lbs per frame of glorious honey.