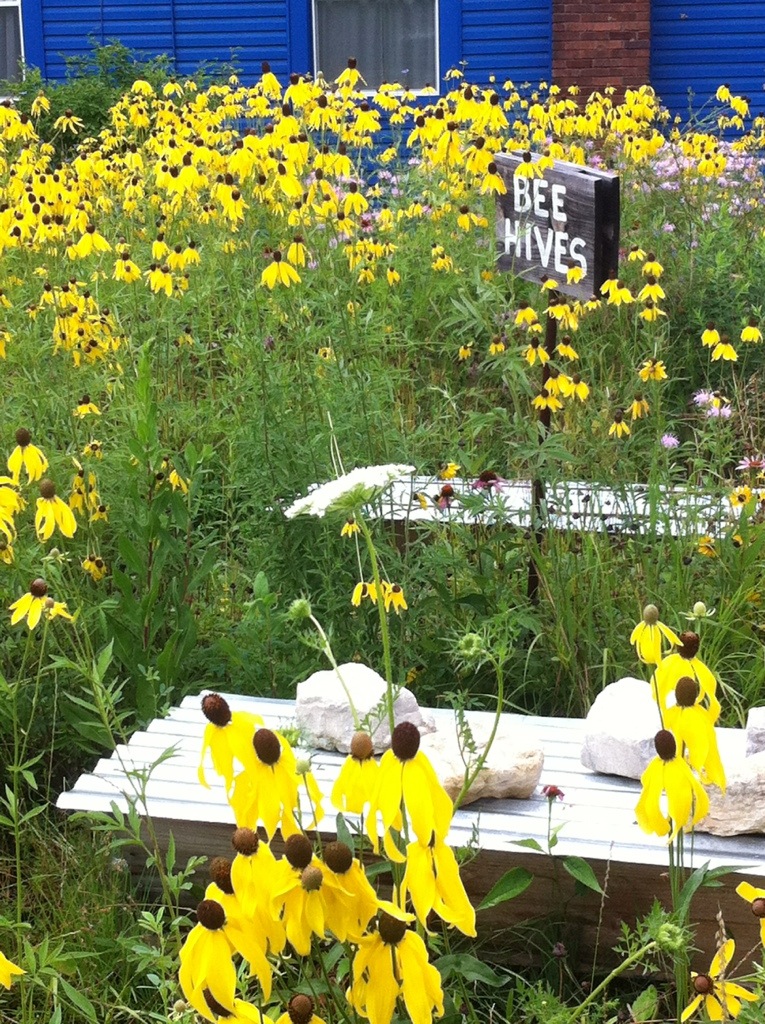 Reader, some of my bees are starving while other hives are packed with honey.
The difference is in the wildness. No…not in the wildness of the bees but in the wildness of where they forage.
The starving bees are located in suburbs and on big farms. Two locations which oddly enough actually have one big thing in common…they're both boring. Boring to death. Sorry to say this.
If you and your neighbors love nice green grass, and if your grass is treated with herbicides and if the lawn-service truck routinely sprays and if you think clover and dandelions reflect that you're a bad homeowner and if you keep all of your flower beds perfectly groomed and free of weeds, then the bees in your trees are probably starving. Because this is a sickly idea of beautiful. It's not our fault. We bought into this idea that thin is beautiful. Not only when it comes to our bodies but also when it comes to our lawns and our lives.
I am getting off that stupid train. Hear me.
And those farms that grow one crop…say, soybeans or corn…and it hurts me to say this because I love corn so much…but that single crop is a bee killer. It's not the crop that's bad, it's the singleness of it. Monoculture farming is unbelievably boring.
The bees in my care that are rolling in honey live in wild…and I mean WILD places. Some of these wild places were intentionally planted. Some of these wild places are intentionally managed to keep them natural. But some of these wild places are completely accidental.
Frankly, Reader, I think I'm about to go off the deep end into this wildness.
The bees doing best live near and forage in
Community gardens. These gardens are diverse and wonderfully wonderfully wonderful and there are weeds and wild flowers growing between bed and at the margins of the gardens. There is a thrilling energy in community gardens, and THIS IS WONDERFUL FOR BEES! Also, Reader, bees are wonderful for the gardens. This is the miracle of it.
County parks. These parks (such as California Woods Nature Preserve) have trails and managed meadows filled with wildflowers, and the bees revel in those meadows. REVEL! The meadows receive full sun and are unmown havens in which natural prairie flowers grow all season long. And the bees in these parks go like gangbusters. Thank God for spaces in which good park systems (such as the Hamilton County Parks) thoughtfully steward the land in their care.
Downtown. Because downtown is a wonderful mix…including some wild areas along the margins. People who live downtown don't have grassy lawns and they don't hire lawn services. People who live downtown have wild garden spaces. And vacant lots. In which community gardens sometimes pop up under the wonderful stewardship of people (such as Catherine Comello Stehlin) who care.
Urban neighborhoods. Take Oakley (near downtown Cincinnati), for example. Because some people such as Sandy Gross and John Hutton and their creative friends know that it's best not to mow. So they plant wild prairie flowers and plan Monarch way stations. And they care how it looks, so it's planned to be gorgeous and wild and save money and save the environment and save the bees and the butterflies. And it's drop-dead gorgeous wherever these people are, so we should all do what they do. I plan to follow their examples.
Go to Brazee Street Studios…to the parking area behind the studios (on Enyart Street) and take a look. THAT, my friend, is beauty.
Reader, I am the steward of a one-acre yard. In a nice suburb. And it is almost all mown. And the bees that share this yard with me are begging me to change it. And I've learned to listen to both the bees and my gut…so I intend to allow some wildness into my yard and thus into my life. The bees in my care here are whispering to me that I've grown dull. And that it's high time I strike out into something unpredictable.