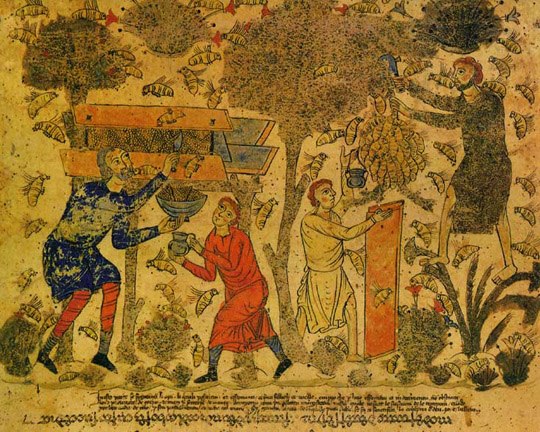 Dear Reader, it is Easter time, and in Ohio this means the beginning of bee season.
The colonies that successfully overwintered in my bee yards are bursting at the seams. Which suggests to me that swarm season may come earlier than usual this year…I usually expect my first swarm call on Mothers Day. It's one of the most exciting calls of the year, and all my nerves are alert for it. Which is why I love this "Praise of the Bees" image. Because it is in every way full on glorious bee.
In this image, beekeepers smoke a swarm and cut the branch on which it hangs. This swarm will then become a happy hive in the beekeeper's yard. Bees fly in the air, and it seems to me that they're all over the blooming trees and shrubs and flowers. Another beekeeper cuts comb from a suspended long hive, honey runs through a sieve, and his assistant collects the small amount of honey in a jar. (I like that this is a sustainable practice. They are not taking more than the bees can give and not more than the beekeepers can use.)
For several months each year, I'm this busy. I'm deliriously, exhaustedly busy and I'm happy with that. And who wouldn't be? It's so freaking exciting.
So, friends, if you happen to find a swarm hanging sweetly in a tree or on a bush or on a lamp post or wherever, please contact me. I'll be delighted collect it. I might look tired and dirty when I see you, but I will be happy. And I think it will make you happy, too.